Black Crowes Three Snakes And One Charm Critical Thinking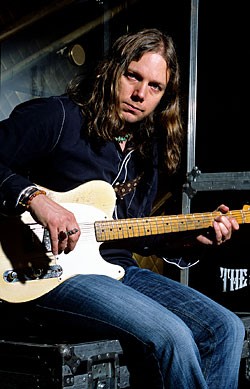 Rich Robinson. All photos by Neil Zlozower.
Emerging as grunge began casting a metaphorical pall over the pop music landscape of the early 1990s, the Georgia-based Black Crowes offered something decidedly different in its reverential mix of rock and roll that delivered an update on the promises made by the likes of the Rolling Stones, CSN, Jeff Beck, AC/DC, the Faces, and even R.E.M.
And it hit big right out of the chute, as its 1990 debut album, Shake Your Moneymaker, went platinum while simultaneously putting the band squarely atop not only the charts and MTV playlists, but firmly in the consciousness of music fans of the day.
The band, formed by brothers Chris and Rich Robinson, employed an always edgy live show with an ever-changing setlist that delivered a mix of raucous rock songs, extended jams, and some of the era's best ballads. Fans who feasted on the band's musical amalgamation – and connection with its audience – dubbed the Crowes' musical style "freak and roll."
The band saw continued critical and commercial success with its 1992 followup, Southern Harmony and Musical Companion, which, while it marked a progression in the band's style and ability, staunchly maintained an independence and creative freedom that became the band's trademark. Subsequent albums saw the band continue to evolve while remaining amazingly consistent in regard to the quality of its output; the band sold more than 19 million albums worldwide and along the way shared the stage with Jimmy Page, Bob Dylan, The Rolling Stones, Aerosmith, AC/DC, The Who, Neil Young, The Grateful Dead, and other legends.
But the path hasn't been without pitfalls. Like any band that displays a degree of staying power, personnel have changed. For instance, guitarist Jeff Cease was dismissed after the band's first album, replaced by Marc Ford, whose tenure was on-again/off-again, and shifted to off-again just two days before the band toured in the fall of 2006. Still, the outing proved successful, and the months following saw the Robinsons writing songs for a new CD and DVD, titled Brothers of a Feather, set for release later this year.
Rich Robinson has always been a fan of true vintage guitars and amps. Some of his first chords were strummed on his father's 1953 Martin, and after wading through a few beginner instruments, 400 of his first hard-earned dollars were spent on a used Fender Telecaster Deluxe. And while he makes no claims about being a "great" guitarist, he knows full well how classic equipment and good tone can inspire a musician.
Do you remember when and why you first started paying attention to music?
Chris and I grew up listening to everything – Joe Cocker, Sly and the Family Stone, Bob Dylan, the Chieftans, to Aretha Franklin and everything in-between.
This was stuff on your parents' record player?
Yeah. My dad was a musician, so he would play a lot of traditional folk and country songs. And mom was from Nashville, so she grew up listening to all that stuff. Dad was in a folk band trying to get on with CBS Paramount back in the day.
When you were young, did you pay much attention to his guitars?
Not really, but as we got older, he let us play them. He had this really cool one made by the Gauer brothers, in Tennessee. It's a dreadnought-style, but a little thinner, with a really interesting sound and an Egyptian-style mandolin headstock with tons of mother-of-pearl inlay. It's a really cool guitar.
Do you still have it?
I still have it, yeah. I also have his '53 Martin D-28, which is beautiful. We used it for songs like "She Talks to Angels," on the first record.
What first got you interested in playing guitar?
AC/DC. I loved Angus and Malcolm Young, and the way they played together. As a teenager, that was the first music that I got way into. I also loved Parliament Funkadelic and Prince at the time, and obviously Crosby, Stills, and Nash was a huge influence back in the day.
As I got older, Dad would let me play his guitars. I'd try to pick out things; the first song I learned to play was "Oxford Town," the Dylan song from The Freewheelin' Bob Dylan. Then I started getting into learning R.E.M. songs and things like that, because R.E.M. was huge in the South when I was 14 years old. I picked up the guitar for the first time when I was 15, and taught myself.
Were you a quick study?
I was a quick study in learning chords and writing songs. I was never the guitar player who sat in his room and learned scales. I was way – and still am to this day – more interested in songs than people. I love and respect people who can play well, but I think songs are truly a gift, you know? I think people who can write great songs… there's just nothing better in the world, to me. So I immediately started writing songs that we started playing in clubs.
At first, we were a punk band. But there was this paisley underground scene going on in pop music at the time, and we used to love what bands like the Rain Parade, Dream Syndicate, and the Street Club were doing. And we sort of outgrew our little punk phase and started delving into different kinds of music like that.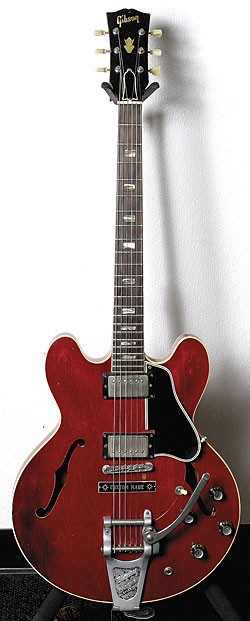 Bigsby-equipped '60s Gibson ES-335. All photos by Neil Zlozower.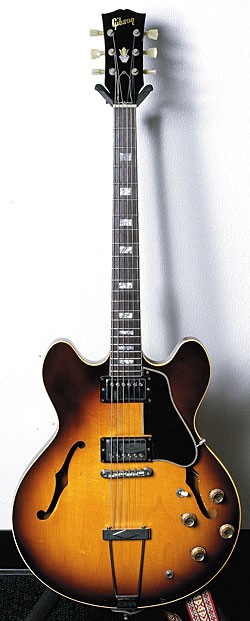 '60s Gibson ES-335 in "tobaccoburst."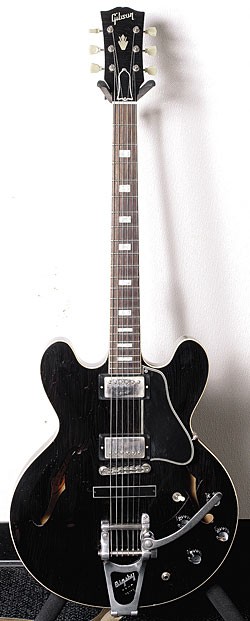 Gibson Custom Shop ES-335 in Black.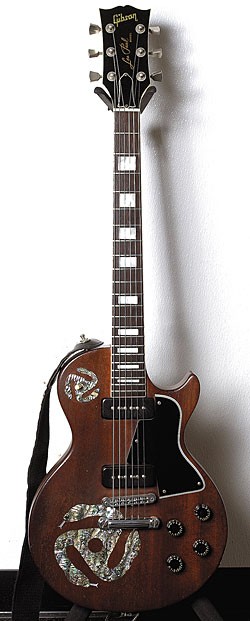 Gibson Les Paul Special with the custom "Three Snakes" inlay.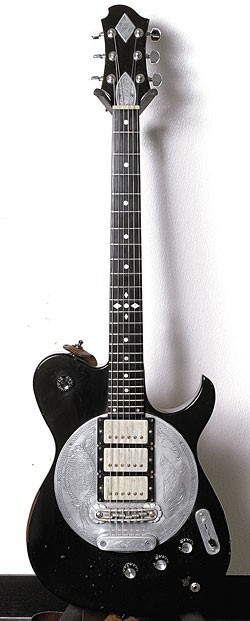 A Tony Zemaitis disk-front with custom Black Crowes engraving.
How did AC/DC fit into the list?
I was nine or 10 years old when I started listening to them, and their music made me want to play the guitar. I remember If You Want Blood… You Got It, their live record. I loved "Riff Raff" – that was an amazing song to me at the time. I never tried to play AC/DC songs, I just so appreciated them. Being a kid, it was exciting, powerful rock and roll music. Everyone calls them a heavy metal band, but they're just a f***in' rock and roll band, all day.
And as I got older, got into more things, and started delving more into music, I started getting back into Crosby, Stills, and Nash, Sly Stone, The Byrds, The Beatles… all those bands.
Do you count Peter Buck, the guitarist in R.E.M., as an influence?
He's not really a guitar influence, but R.E.M. songs of the day – Murmur had some great songs, Reckoning and Fables of the Reconstruction – those three records were the ones for me, as far as songwriting goes. I know these are really weird, sort of all-over-the-place influences.
Do you think any them have affected the way your guitars, amps, or playing style sound?
I don't think so. I think tone is 90 percent about the way a person plays, not which instruments they play.
It's in the hands…
Yeah. I play different amps and guitars, and it always sounds like me, though sometimes in a weird way.
Even back when you were playing your dad's guitars, you had your hands on good stuff.
When we were kids, I had a new Tele; it might have been a Squire. The very first guitar I called my own was one my parents bought me… a crappy Lotus copy.
But what was the first guitar you bought for yourself?
I had a bunch of weird guitars when we first went out, because we couldn't afford good guitars back then. The first decent guitar I bought was a new Rickenbacker in sunburst finish. Then I bought a Robin.
Made by Dave Wintz, in Houston.
Yeah, that was pretty cool. Then I had this weird Tele… I would always just buy these guitars, play them for six months, and then trade 'em for something else. I never had a multitude of guitars. I once had this huge hollowbody Gibson. I can't remember what it was but, it fed back a lot, so I had to get rid of it.
The first really good Fender I bought was a black Custom Tele from the '70s. And then I bought a '68 blond Tele and that's been my main guitar ever since. I paid 400 bucks for it.
It's still out on the road with you?
Yeah, I still use it, and this weird goldtop Les Paul that I've had forever, that some dude tried to shave down – there's an area where there's no gold anymore. It used to have a Bigsby on it, but I took it off while we were recording Shake Your Money Maker. I've had those three guitars since I was a kid.
Is that the goldtop you take on the road?
Yeah. I don't know what the hell it is – a '50s reissue, maybe? Whoever had it before me had an '80s Dimarzio heavy-metal pickup in the bridge, and in the neck position it had a P-90. Instead of just trying to fill in the P-90, I routed it out, because the whole thing was so f***ed up anyway. The headstock was cracked at some point, but we had it fixed.
When was the first time you bought a guitar that was collectible the instant you bought it?
In the middle of the tour for Shake Your Money Maker, I bought a '58 sunburst Les Paul Junior in immaculate condition. I've since sold it, but I've had well over 100 guitars since then. Some I sell, some I keep.
So how many do you have right now?
I don't know, really. I take, like, 36 guitars on tour, and I have another 20 or 30 in storage.
What sort of stuff is in storage?
I have a Charlie Christian from the '40s, original, with a lap steel and a matching amp. And I have the Gauer in storage, another few Teles, this weird old Gretsch that has two f holes and one really cool old pickup. A bunch of basses – a cool Tele bass, a Jazz Bass, and a P-Bass. My dad's Martin is there, and another D-18, it's either a '58 or '61, along with a couple of Taylors and a couple more Trussarts. And there's more.
Do you buy certain guitars because you want to try certain sounds, or are you buying them to have a collection?
I definitely buy things to get certain sounds. I don't really care about collecting. It's nice to have great guitars, you know? But to me it's more about what sounds good. That's always what it's been. I have new guitars; I bought this Duesenberg, which is great, and I have the Trussarts. The new Zemaitises are really good. There's this guy in Tokyo who makes these Freedom guitars that are great, really well-made. I have a couple of Fender Custom Shop Teles that sound f***in' great.
There's a lot of new stuff out there that's really good. So it's not about collectibles, it's about what sounds good to me.
Have you ever had any '50s Teles?
I have a '54 Esquire – its either a '54 or '55, I can't remember. I originally had a '61 and it was stolen in either Chicago or Grand Rapids. So there was a guitar shop in Hoboken – and it might have been Hoboken Guitars – but they had this '55. After I got mine stolen, I found this one and it was just f***in' great, has a baseball bat for a neck, and sounds amazing.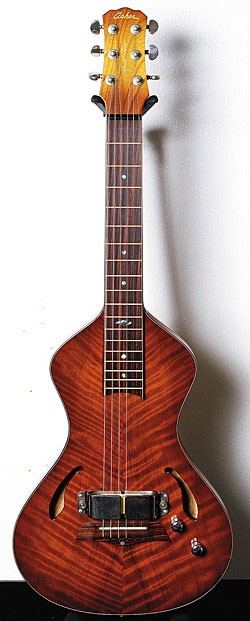 Bill Asher lap steel. All photos by Neil Zlozower.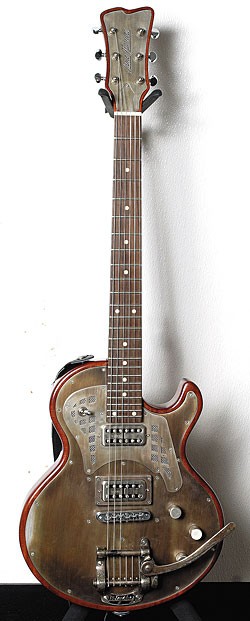 James Trussart Steelphonic with TV Jones Filter'Tron pickups and Bigsby tailpiece.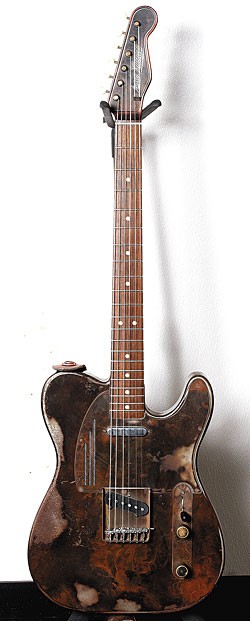 James Trussart Rust-o-Phonic.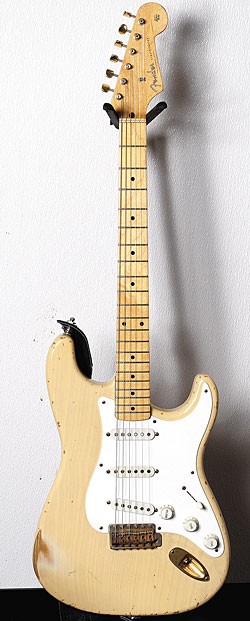 9) Fender Mary Kay Stratocaster with Custom Shop parts.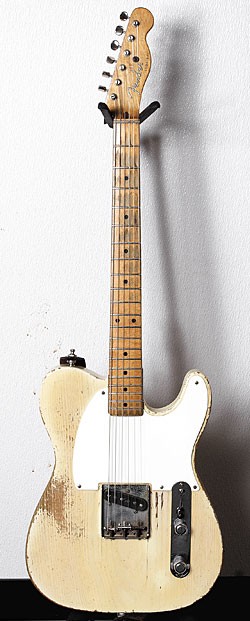 And you've used many different amps through the years, right?
Yes. I'm into just trying different things, you know? When I started, I used Marshall Silver Jubilees. That was before there were any independent companies, really. You didn't have the boutique amps; you had Fender, you had Marshall, you had Vox, you had Laney; it was pretty limited.
On our first tour, I used an old blackface Showman and the Marshall Jubilees, and my rig sounded really good. As we went to make Amorica, I started getting into vintage amps because I could finally afford them. I bought a bunch of tweed Fender Vibroluxes, I bought a really cool brownface blond Tremolux that sounded great, a '71 50-watt Marshall that sounded really good – just random amps – a Gretsch, a couple of Supros, things like that.
By the time we recorded Amorica, our engineer had gotten to know Mark Sampson, when he was still building amps one by one, and I bought five or six from him… maybe more. We each bought two Clubman amps, and he made us each a Chieftan. They were really, really well-made, great-sounding amps, and we got into the different tones. I used them to record all of Three Snakes and One Charm, and Amorica. Then I got into the Harry Joyce stuff after someone told me Harry was making amps again. He made all of Pete Townshend and David Gilmour's amps, and I always loved their tones. So I called HiWatt to check it out, and they sent me an amp, and it just sounded great. So I stuck with that for awhile.
But now, there's all these really cool boutique-amp companies making great amps. Wayne Jones at Headstrong amps is really good. I use one of his 30-watt amps. And 65 Amps made me this cool 55-watt amp with one channel. It sounds really good. I use all of them to get my sound. It's not always simple, but it needs to sound basic.
How many amps do you have at home, and how many do you take on tour?
Well, on tour I have the Headstrong, the 65, and my Marshall Silver Jubilee. At home, I have three different-sized Supros, some Wizard amps; one is a hybrid with two transformers and sounds like two amps in one. One of them sounds more like a Showman, and one sounds more like the Silver Jubilee. They're great-sounding amps. Then I have some Orange amps, a new Fender tweed Twin that sounds really good, three tweed Tremoluxes, a couple of original tweed Bassmans, the Matchless stuff, that '71 Marshall… there's tons of stuff.
Two of my Matchless combos just got stolen, which really pisses me off.
Where were they when they disappeared?
In my storage space. Someone walked in and took them out of the cases and put the cases back. They're custom-made, covered in tweed, and they sounded great.
There was other stuff there they could have stolen, but didn't?
Yeah, it doesn't make any sense. It was like someone knew what they were. Maybe they thought we wouldn't miss them for awhile… I don't know.
From day one, the Crowes have been compared to the Rolling Stones. But what are some other influences on the band's sound?
Mick Jagger is a huge one; I love the way he plays guitar and writes songs. Sly and the Family Stone is another huge influence, and always has been. Then there's The Faces, Crosby, Stills, and Nash… all the bands we grew up listening to – Parliament, Joe Cocker, The Jeff Beck Group, the Byrds, the Beatles… Gram Parsons, all of that is in there.
And then you've got the whole Led Zeppelin thing…
The minute we played with Jimmy [Page, to record 2000's Live at the Greek, a mix of Led Zeppelin covers and other blues songs], people started comparing us to them. All of a sudden it was "They've always ripped off Zeppelin!"
Are there any comparisons you've heard through the years that didn't make sense, in your opinion?
Well, I was 19 or 20 when we recorded Shake Your Money Maker, and I'd been playing guitar for only four or five years. When you're young and don't have a lot of experience, you wear your influences on your sleeve. So there we were, making our first album, and we wanted it to be our Beggar's Banquet or Exile On Main Street! But with Southern Harmony, our sound became our own. After that, when people started comparing Amorica to the Stones, or even Three Snakes, the comparisons just started getting really silly. It's like the dips***s had never really listened to these records; Amorica and Three Snakes had nothing to do with the Rolling Stones. If you listen to those albums, they're completely different. Lions has nothing to do with the Stones; I mean, By Your Side was more of a straight-ahead rock and roll album.
If you look at our career, because our first two records were so successful, that's what everyone reverts to. But we really took a left turn with our songs, and really pushed ourselves and tried to do different things. But because of the laziness or ignorance of some journalists, so many of our other the influences were never discussed. As we got away from the Stones thing, we really got away from it.
The big news these days is that you're getting set to make a new album. Are you planning on playing all the guitars yourself?
Well, Paul (Stacy, the band's producer and touring co-guitarist) is going to be there, so we'll see what happens. It just depends on everyone's schedule and what they want to do. Everything is up in the air right now.
---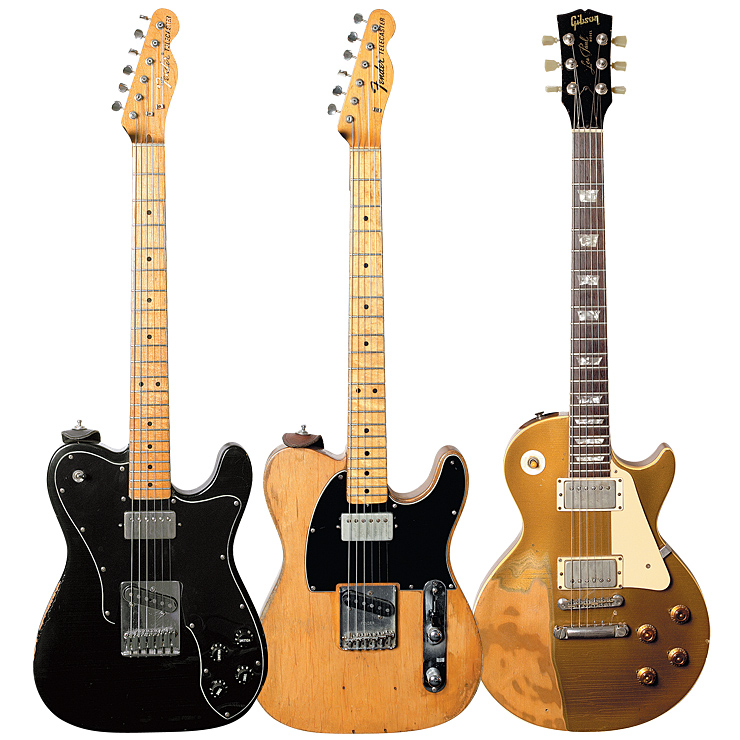 Rich's (main) Axes
Three guitars (LEFT) have been Rich Robinson's go-to axes since the earliest days of the Black Crowes. His '70s Fender Custom Telecaster was the first serious guitar he bought, followed by his longtime primary guitar, a '68 Telecaster with a humbucker that had already been installed when he acquired it. He removed its Bigsby vibrato while the Crowes were recording their first album. The Les Paul was also "altered" by the time Robinson bought it.
Stay up to date with Rich at http://richrobinson.net
---
---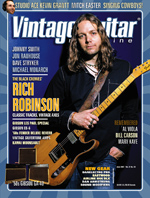 This article originally appeared in VG
's June 2007 issue. All copyrights are by the author and
Vintage Guitar
magazine. Unauthorized replication or use is strictly prohibited.
Related
Ward Meeker
Three Snakes and One Charm is the fourth studio album by American rock band The Black Crowes. It was released on July 23, 1996.
Background[edit]
During the "Amorica or Bust" tour of 1995, many of the relationships within The Black Crowes had soured, the most public of which was the one between brothers Chris and Rich Robinson. "We just fucking hated each other," Rich noted in the September 1996 issue of Acoustic Guitar magazine. "It's just a normal phase bands go through. There was a lot of emotional baggage, and everyone got on each other's nerves. We almost broke up a few times, but finally we all let go and moved on."[7]
Chris echoed his brother's sentiment in the March 1996 issue of Guitar World magazine. "Everyone goes through changes," he stated. "The trick is trying to remember that and keep it together, and having respect for everyone and not judging people because you're all goin' through changes. Perseverance is the thing. You have to get your ego in place."[8]
With this new attitude in place, the band began planning what would be their fourth studio album. Their previous album, 1994's Amorica, was very much a studio recording, with a great deal of overdubs and other musical flourishes. This was a distinct change from the band's sophomore effort, 1992's The Southern Harmony and Musical Companion, which was recorded in eight days with little to no overdubs. A great deal of this was attributed to producer Jack Joseph Puig, who manned the board for Amorica. "The eight day album was coming off of 15 months of touring and we were still just flying," then-bassist Johnny Colt told RockNet in 1995. "This time we took some time off beforehand and tried to slow down...We consciously tried to take more time. I'm not even saying we really needed it, but we wanted to try it. We have worked ourselves into a position to afford to spend a little bit more time and try to make a different step."[9]
Chris Robinson had a slightly different tone to his take on Amorica. "(It) wasn't hard to make because it was our third album," he told MOJO magazine in July 1996. "It was hard to make because we were depressed and in an angry, confused place. Most of it was personal shit."[10]
Rather than make another "studio" record like Amorica, the band opted for a different approach in the latter months of 1995. "Chris suggested that rather than book a hotel for six months, it'd be cooler if we rented a house for everyone to stay in," Rich Robinson noted in 1996. "So Chris moved into the house, and I brought my little board over to work on the demos. It sounded so cool that I brought my big board over, and the rest of my shit, and we rented a Neve sidecar for 10 extra channels. And we just did it."[11]
Writing and production[edit]
As pre-production for Three Snakes and One Charm began, several songs were written with Chris and Rich Robinson on different sides of the United States. Rich would write and record music in Atlanta, GA and send his results to Chris in Los Angeles, CA. "The long-distance writing was just something we did to get the process more concrete," Rich told Acoustic Guitar magazine in 1996. "I had a lot of bits and pieces that I'd written on tour and I needed to hear what Chris would do with them."
Once the basic ideas were recorded to tape, the band assembled in the house in Atlanta, GA (dubbed Chateau de la Crowe by the band) to begin the Three Snakes sessions. Then-keyboardist Eddie Harsch recalls: ""When we got to Atlanta, Chris and Rich put us in a room and played us the demos. The record was basically written. Twelve songs with vocals, dogs barking in the background, everything. We just looked at each other, like, 'What do you want us to do? It's all here."[12] There proved to be a great deal more to do, with the band spending several weeks refining their original demos. Plus, a few other songs were written on the spot, including "Under a Mountain" and "Better When You're Not Alone."[13] In total, the band recorded twenty-six songs during the sessions.[14]
It was during the recording of Three Snakes that the band decided to introduce new elements into the music, the most noticeable being a horn section on "(Only) Halfway to Everywhere" and "Let Me Share The Ride." "That was the Dirty Dozen Brass Band," Rich commented in 1996. "They opened for us last year (1995) through the whole American leg of (our) tour. Chris just said, 'Fuck it. We've never had horns that we like. Let's go for it.'"[15]
The band attributed the sonic textures of Three Snakes to the nuances of recording in a house. "It's a totally different vibe doing it in a house, much more conducive to being creative," Rich Robinson commented in 1996. Other members of the band credited the more communal atmosphere of Chateau de la Crowe with making the album a success. "We lived and breathed together all day long," remembers then-bassist Johnny Colt. "It was a caravan of people; people upstairs watching crazy art films, people cutting tracks and eating food. There were dogs running everywhere. And (producer) Jack (Joseph Puig) was pulling his hair out over the whole thing of course."[16]
Then-guitarist Marc Ford concurred with Colt's sentiment, adding that the atmosphere created by recording in a house fostered his musical relationship with Rich Robinson. "It just keeps flowering," he noted in 1996. "Rich used to insist he was a rhythm player, and I told him to stick his toe as a lead player in the water a little bit, and now we're playing with each other, listening to each other. You can do all that sound-weaving."[17]
With the bulk of the recording process done, the band returned to Ocean Way Studios in Los Angeles, CA to put on the finishing touches and begin the mastering process.[18]
Promotion and release[edit]
The Black Crowes began the supporting tour for Three Snakes and One Charm on July 5, 1996 in Burbank, CA, where the album was given its world premiere.[19] The album would see its official release on July 23, 1996, several weeks into a world tour that would go straight through the end of the year and into the next, expanding their in-concert repertoire to over ninety songs.[20] As a means of promotion, the band performed several radio and television broadcasts to showcase the new album. The most noteworthy of these appearances came when the band appeared on the television program VH1 Storytellers in the Summer of 1996. The show was relatively new at the time, with each episode capturing artists performing in front of a (mostly small and intimate) live audience, telling stories about their music, writing experiences and memories.[21] The Black Crowes' installment was the fifth in the series, which saw eighty-seven episodes over its original run.
Three Snakes garnered generally positive reviews upon its release. Stephen Thomas Erlewine gave album three stars on AllMusic, stating the album was "a winning album, mainly because the Black Crowes' musicianship continues to deepen -- the musical fusions and eclecticism are seamless."[22]Rolling Stone magazine also gave the album three stars, noting that it "works best when it forsakes album-oriented pretension for singular clarity, from the oblique Beatles references on 'Nebakanezer' and 'Bring On, Bring On' to the Sly Stone-cum-Al Green funk of '(Only) Halfway to Everywhere' and the warm acoustic resignation of 'Better When You're Not Alone.'"[23]
The album's cover logo resembles a 45 rpm record insert. A limited box set edition of the album was also made available, comprising seven 7" vinyl EPs, a 45rpm custom adapter in shape of the album's cover logo and a one-sided poster of the band.[24]
Personnel[edit]
Track listing[edit]
All songs written by Chris Robinson and Rich Robinson, except where noted.
Original Release[edit]

"Under a Mountain" – 4:10
"Good Friday" – 3:51
"Nebakanezer" – 4:07
"One Mirror Too Many" – 3:34
"Blackberry" – 3:25
"Girl from a Pawnshop" – 6:17
"(Only) Halfway to Everywhere" – 3:59
"Bring On, Bring On" – 3:56
"How Much for Your Wings?" – 3:27
"Let Me Share the Ride" – 3:18
"Better When You're Not Alone" – 4:10
"Evil Eye" – 4:10

1998 Reissue Bonus Tracks[edit]

"Just Say You're Sorry" – 3:30
"Mellow Down Easy" (Willie Dixon) – 3:43

[edit]

"Just Say You're Sorry" – 3:30
"Pimper's Paradise" (Bob Marley) – 4:04
"Somebody's On Your Case" (Ann Peebles) - 3:02
"Mellow Down Easy" (Willie Dixon) – 3:43
The bonus tracks were first appended to the album on the Sho' Nuff box set. "Mellow Down Easy" originally appeared as the B-side of the "One Mirror Too Many" single; "Pimper's Paradise" and "Somebody's On Your Case" originally appeared as the b-side of the "Blackberry" single.
Charts[edit]
Album - Billboard (North America)
| Year | Chart | Position |
| --- | --- | --- |
| 1996 | The Billboard 200 | 15 |
Singles - Billboard (North America)
Year
Single
Chart
Position
1996
"Blackberry"
Mainstream Rock Tracks
6
"Good Friday"
Mainstream Rock Tracks
3
References[edit]