College Essay Examples Common App 2015 Pdf
Update: Read the latest tips for the 2017-18 Common App.
Earlier this month the Common Application introduced the first in a series of webinars focused on best practices and tips for completing the Common Application. Like all presentations in the series, the first webinar, titled "What to Expect in the 2015-2016 Common Application," was geared specifically for guidance counselors.  But why should guidance counselors have all the fun? We'd like prospective applicants and their parents to get in on the Common App action, too! Unless you're desperate to sit through a recorded webinar on the ins and outs of the revised 2015 Common App, allow the experts at College Coach to happily summarize the details for you.
1. Students must add their high school name (and CEEB code) before they can invite their guidance counselor and teachers to submit letters of recommendation. It's crucial that students select the correct high school in this process, especially if they attend a high school that uses Naviance eDocs to manage the paperless submission process. If students can't easily locate their high school in the list provided by the Common App, they should try using the school's CEEB code rather than the name lookup. When in doubt, ask a guidance counselor for help!
2. Students can change their FERPA (Family Educational Rights and Privacy Act) waiver selection prior to recommendation submissions. This is good news! If a student mistakenly selects that she "does not waive" her rights to review her teachers' recommendations, she will now be allowed to change it to "waive" before the application is submitted. And we always recommend students "waive" their rights to view letters of recommendation.
3. As we pointed out last year, the only way students could see a print preview of their app was to complete every single required component of the Common App. Now, a handy "Preview" button will be available on every page. Hooray! While the print preview is indeed printable, it's not a PDF that can be saved for future use.

4. We wrote an entire blog on this topic already, but in case you missed it, one essay (about describing a place where you are "perfectly content"), is no longer one of the five essay prompts. In its place, the Common App has added a question that will allow students to highlight their analytical thinking skills and intellectual curiosity. Here's the new question: Describe a problem you've solved or a problem you'd like to solve. It can be an intellectual challenge, a research query, an ethical dilemma – anything that is of personal importance, no matter the scale. Explain its significance to you and what steps you took or could be taken to identify a solution.
5. This wasn't a personal pet peeve of mine, but I can understand that some students felt stifled when they tried to copy and paste their personal statement into the small text box provided by last year's Common App. In the 2015 version, students will be able to click on an "Open Full Screen" button to preview their piece more effectively.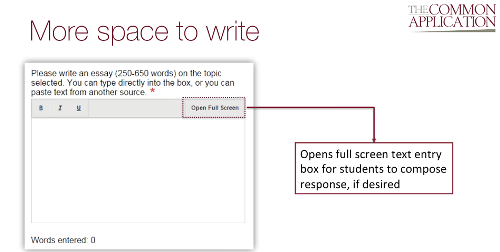 6. To expand college membership and improve access for college-bound students, the Common App no longer requires that its members include a personal statement as part of their application. Students, however, can still elect to submit a personal statement to those colleges who have made the essay an optional part of their admission process. To ensure that students are aware of the change, they must now check an "I understand" box on the "Writing" page of the application. The wording of the new rules is as follows: Some colleges require submission of the personal essay with your Common Application. You may submit a personal essay to any college, even if it is not required by that college. If not required by a college, you will be given the option during submission to include your essay or not for that college.
7. Fun! Fun! Fun! Like the rest of the Common Application, the main essay will become fully editable for all applicants at any time. No longer will students be limited to two edits (or a total of three essay versions). While the Common App does not advocate students creating new versions of their essay for each school to which they apply, they thankfully recognize that curtailing students' ability to alter their essay places undue stress on already anxious applicants!
8. There are three places on the Common App where students may be required to submit writing: on the "Writing" page (in the form of a personal statement); in a college-specific supplement under "Application;" or in a college-specific supplement under "Writing Supplement." (Now, that's not confusing at all, is it?) Last year students had a difficult time determining exactly which schools had additional essays or questions. Thankfully, the good folks at the Common App have come to the rescue. Applicants will now see a clear layout that illustrations the exact writing requirements for each school on their "My Colleges" tab.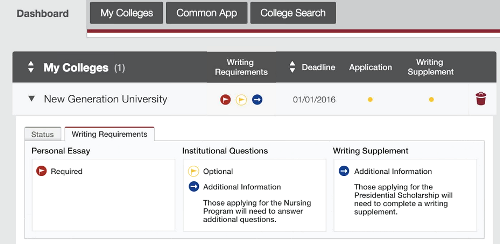 9. If you've taken (or plan to take) more than 10 AP exams, we have one good piece of news for you! You'll now be able to fit up to 15 scores on the "Testing" section of the Common App. (Last year, students could only list up to 10 AP scores.) From AP Art History to AP World History, the Common App has you covered.
10. And who doesn't love a truly happy ending? Common App tech support will now be made available to students 24/7/365. The new Solutions Center is "where you are, when you need it." Applicant chat will also be made available for those who enjoy receiving immediate feedback and troubleshooting support for all of their Common App needs. (Because really, who doesn't?)
Sometimes change is scary. Like when the College Board announces that they're revamping their infamous SAT to (effectively) compete with the more user-friendly and classroom-appropriate ACT. But in the case of changes to the 2015-16 Common App? We have to admit, we're pretty pleased! Stay tuned for more updates and tips for applying to college with the newest Common App, brought to you by your Common App experts.
Check out Elyse's other Common App articles:
Listen to Elyse's segments on the 2015-16 Common App on Getting In: A College Coach Conversation:
College applications take a lot of work to complete — if you're an aspiring or current college applicant, you know this all too well. The sheer volume of information you're expected to provide, covering every aspect of your young life, can be very overwhelming — especially when multiplied by the 7, 10, 15, or however many schools you're planning to apply to.
Much of this information is extremely repetitive. Every college will want to know where you live, who your parents are, and how you scored on the SAT. It's likely that you'll send the same recommendations to every college you apply to, and even essay questions may be similar from school to school.  
This is where the Common Application comes in. Less formally known as the Common App, this system streamlines the college application process by letting students apply to any of its hundreds of member schools through a common portal.
Your basic application information is automatically copied to each member school with whom you choose to share it, meaning you'll only have to enter those details about your contact information once. While many colleges choose to include a "supplement" with a number of application questions and/or writing prompts specific to that college, the submission process still takes place through the Common App.
As of August 1st, 2016, the Common Application for the 2016-2017 academic year has gone live. If this is your first time dealing with the Common App, or if you need a refresher, this is the time to get familiar with the Common App system — well before deadlines hit.
Here at CollegeVine, we're committed to helping students and their families understand the college application process. It's confusing and complex, and in the end, our goal is to help you find the college that's right for you, and to give you the best chance of gaining acceptance to that college.
To that end, we now present you with a brief user guide to the Common App. While this post will not cover every detail of the application process — some of which we'll address in later, more in-depth blog posts — it's intended to provide you with an accessible, practical framework through which to understand the Common App, its online interface, and its main requirements.
Ready? Let's dive in.
Introducing the Common App
The Common App originally came into being in 1975, when 15 private colleges, including Colgate College and Vassar College, began considering the repetitiveness of college application procedures. In the days of paper applications, filling out separate forms for each college by hand, including writing essays, made applying to more than a few colleges a huge amount of work.
The original Common App schools, recognizing that they had similar admissions standards, developed a single application form to be used by all member schools. This application could be photocopied and sent to a number of different schools, thus drastically reducing the workload for college applicants.
Over time, more and more colleges joined the Common App system until they numbered in the hundreds. Though not without controversy, students and college admissions offices alike gravitated toward the streamlined approach to admissions provided by the application system.
The Common App has continued to gain member schools over the years. Many competitive and popular colleges now accept applications through the Common App — for example, all of the schools that make up the Ivy League use it. While some admissions professionals have criticized the Common App, calling it too generic (among other critiques), others have praised it for simplifying the application process for colleges and students alike.
The Common App for the 2016-2017 school year allows prospective college applicants to apply to undergraduate programs at nearly 700 colleges and universities. These schools include some international schools as well as some in the United States, and public schools as well as private schools.
For some colleges, all applicants must apply through the Common App. For other colleges, you may have the option to apply using other college application systems, such as the Coalition Application or the Universal College Application. Each college's admissions website will specify which application(s) they accept.
In  2013, the option to fill out and mail in a paper version of the Common App was discontinued in favor of the application's online system, which was first introduced in 1998. All applications through the Common App must now be filled out and submitted using the Common App website. We'll go over the basics of how to use that website in the next section of this post.
Navigating the Common App Website
Once you've determined that you will be using the Common App to apply to one or more colleges, you'll need to get comfortable with using the application's online interface.
First of all, you'll need to create a Common App account. Once your account is set up, you can monitor your application progress using the Dashboard, add schools to your list under My Colleges, fill out the actual application part of the Common App, and look up colleges through College Search. We'll go over each of these sections of your account below.
It's wise to create your Common App account and begin entering your information as soon as possible, and certainly well in advance of your chosen colleges' deadlines. While using the Common App does speed up the process of filling out multiple applications, it will still take time to gather your information and decide how to present it. You can edit the information you've entered at any time — nothing is set in stone until you hit "submit."
Creating and logging into your Common App account
In order to create your account, you'll need to start with the Common App website. In the upper right corner of the main page, you'll see a bright green button with the text "Apply Now." Click on this button. It'll bring you to a page that looks like this:
Since you're new to the Common App, click on the text that says "Create an Account." The system will guide you through the process of setting up your Common App account with some basic information about yourself. Make sure to write down your password for future reference.
Once your account is created, you'll be able to log back into it in the future using your email address and password. Just head back to the Common App homepage and click on "Log In" in the upper right corner, choose the "Student" option when prompted, and enter your login information.
Now that you have a Common App account, what do you do with it? Below, we'll go over the various parts of your account and what you'll need to do with them. We at CollegeVine have set up a sample student account to give you a visual guide to what you'll encounter when you actually put your Common App account to work.
Dashboard
When you log into your Common App account, the first thing you see will be your Dashboard. You can also access your Dashboard at any time by clicking on the Dashboard tab.
For our CollegeVine sample student, the Dashboard looks like this:
Your Dashboard serves to give you a quick overview of the requirements of the various colleges you're planning to applying to. Our sample student is applying to the schools you see listed on the left side of the page — Amherst College, Boston College, and so on. The chart you see provides you with a quick way to check what each school requires.
Your own Dashboard will look similar, but when you start out, there will be no colleges listed — because you haven't specified any. You'll need to add each of the colleges to which you wish to apply using the College Search tab. (We'll go over that process in greater detail later in this post.)
As you can see in this screenshot, there is an "Instructions and Help" box on the right side of the page. This box will appear throughout the Common App, but the frequently asked questions in the box below it will change depending on what part of the site you're looking at. If you have a question that isn't shown, simply click where it says "Instructions and Help" to access more assistance.
My Colleges
The My Colleges section of the Common App allows you to access information about each of your chosen colleges' admissions requirements in greater depth than what's found on the Dashboard. You can get to the My Colleges section at any time by clicking on the My Colleges tab.
Our CollegeVine sample student's My Colleges section looks like this:
As you can see from this screenshot, our student's My Colleges page is showing more detailed information for the first college on the student's list — in this case, Amherst College. The other colleges the student is applying to are listed along the left side of the page. In order to show information for one of the colleges, you'll simply click the plus sign next to that college's name.
Therefore, if we click the plus sign next to the name of Boston College, we'll get this:
Our sample student's page now shows admissions information for Boston College. Again, your own My Colleges page will not show any colleges until you add some to your list, which we will cover how to do later on. Once you add schools, the My Colleges page will only show the schools you have selected.
The My Colleges page is also where you'll access the parts of your college applications that are specific to the individual colleges to which you're applying. As you can see in the screenshot above, under the college's name on the left side, you'll see a number of items, including those under "Writing Supplement."
What exactly a college's supplement includes is, for the most part, up to them. Usually, these include questions and/or writing prompts that are either specifically about the school in question or that involve topics not covered in the rest of the Common App. Often, colleges would like to see students tackle topics that they consider more interesting and relevant to their school and the student's potential major than the Common App essay options.
As an example, below is a screenshot of the supplement for Carnegie Mellon University. Clicking on the word "Questions" under "Writing Supplement" will take our sample student to the following screen, where they'll be provided with instructions on how to complete it.
However, note that every school's supplement is different, and you must read the instructions for each carefully. Some schools don't have a separate "Writing" tab and may have other headings. Make sure you take a careful look at any and all headings in this section to determine if there are more supplementary questions for you to answer — they might not all be immediately visible.
Reviewing the My Colleges tab is a good way to keep track of admissions information for the various colleges you're interested in, but it doesn't cover everything in terms of that school's admissions practices, and it's not a substitute for more in-depth research. Clicking on the blue link that says "View College Website" in the "Contact" section of your school's information will take you to that school's own admissions website, where you can find out more about their policies.
Common App
The Common App section is where you'll actually fill out the substance of your college application(s). You can access it at any time by clicking on the Common App tab.
For each of these sections, you'll need to provide answers to a number of specific questions. Some of these questions will be in multiple-choice format, and you'll have to choose one option (or more, if specified) from a given list. Others will ask you to enter certain small items of data, such as a name or phone number. Others will require you to write out a longer answer, up to and including the personal essay, which we'll cover in further depth in other blog posts.
If you're unsure about how to answer some of these questions, you can visit the "Instructions and Help" section of the Common App website. Your guidance counselor or another school official may also be able to help.
1. Profile:
This section is where you'll enter more detailed information about yourself. It's divided into sections covering different topics, from your contact information to your citizenship. Click on the title in the gray bar for each section in order to open up and answer that section's questions. The Profile includes the Common App's fee waiver request form, which you can learn more about on the CollegeVine blog in our post How to Receive a Common App Fee Waiver.
2. Family:
This section is where you'll answer questions about your family situation, your parents, and your siblings. Again, you'll click on the title in the gray bar for each section in order to open it up and answer its questions. We at CollegeVine have covered this topic in greater detail in the blog post Why Does the Common Application Ask Where my Parents Went to College?
3. Education:
This section is where you'll answer questions regarding your educational experiences, from what school(s) you've attended, to your GPA and scholastic achievements, to what level of educational attainment you plan to reach. You'll also list all the courses you are taking now or have taken in your most recent year of schooling.
4. Testing:
This section is where you'll tell the Common App whether you would like to self-report your standardized test scores and possibly future test dates in addition to sending official score reports directly to your chosen college. If you elect to self-report, you'll be given the option to tell the Common App which tests you'd like to report your scores for, and then to enter your scores for those tests.
5. Activities:
This section is where you'll enter the activities in which you've participated as a high school student. You can add up to ten activities, and you'll be asked a number of questions about each one, including when you participated in the activity, how much time per week you spent on it, and your notable accomplishments or leadership positions associated with that activity. You can read more about this section by reading the CollegeVine blog post How to Fill Out the Common App Activities Section.
6. Writing:
This section is where you'll answer questions that require longer written responses, starting with your personal essay. Under the "Personal Essay" section, you'll find a list of topics to choose from, and a box in which to copy and paste your essay text. (We strongly recommend that you compose your essay first in a Word document or other format outside of the Common App website.)
Under the "Disciplinary History" section, you'll be asked if you have been found responsible for a disciplinary infraction either at school or in the community, and given an opportunity to address or explain what happened. Finally, under "Additional Information," you can include information on any special circumstances which might be relevant to your application and are not addressed elsewhere in the Common App.